House of Lords announcement names Basingstoke College of Technology in the EdTech50
BCoT has been named as the leading college and one of only three colleges in the Edtech50.
---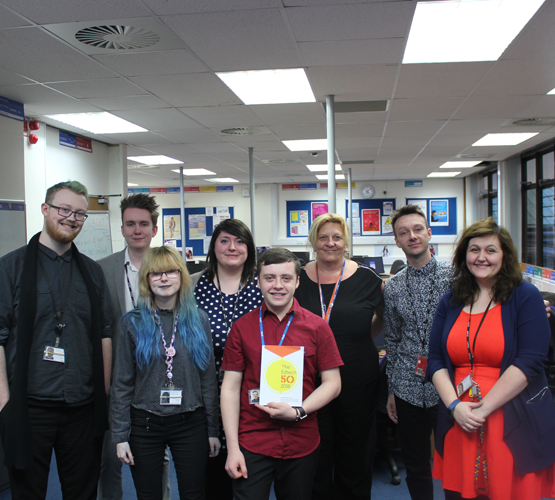 The announcement, made last week in the House of Lords, puts the College alongside the very best of the UK's education technology people, products and projects. BCoT is also acknowledged as the only college in the top 50 to embrace education technology across their entire college and curriculum.
Edtech UK is the strategic body established by the Education Foundation to help accelerate the growth of the UK's education technology sector across the UK and globally. Commenting on BCoT's innovative digital technology strategy the judging panel of expert educators and industry leaders said: "The work around digital technology across this college to support teachers and student learning is gaining a growing reputation. Principal Anthony Bravo has created a welcoming open door and the work led by generous digital Innovation Specialist and Lecturer, Scott Hayden leads national thinking."
It was BCoT's strategic decision to move towards a curriculum model that firmly embedded blended learning and the use of digital technologies which won high praise from the judges. Leading the way for many other colleges BCoT demonstrated how their investment in resources, infrastructure and training has successfully delivered an ambitious vision.
Principal Anthony Bravo who has spearheaded the initiatives which have put BCoT at the forefront of education technology said: "I am hugely proud that BCoT's ground breaking work has been recognised by Edtech UK.  Education technology is one of the fastest growing sectors in this country and it is changing the face of today's classrooms. In a digital centric world BCoT is leading the way in how colleges can embrace and harness the very latest technologies to remodel their teaching and learning. In turn our students progress, not only with a first class technical qualification, but with the digital skills very much demanded by universities and employers alike."
It's been a busy time for awards and accolades at BCoT. The College also took top honours recently at the prestigious Times Education Supplement 
FE awards winning the 'Outstanding use of technology for improving teaching, learning and assessment' award. The judges praised the College for their "strategic approach to the use of technology across the curriculum."
Technology will also be headlining an event the College is hosting on 14 March 2018. Advancing and Exploring Technology in Skills is an opportunity for leaders to explore the wider implications of innovations and advances in learning technology, both in the classroom and in the workplace. To find out more and book a place visit https://i-gvs.com/news/events/200513/
With their award winning reputation for expertise in education technology the experts at BCoT are often in demand. Learning Technology Apprentice, Sky Caves was recently in the spotlight appearing as a guest on Pivotal Education's podcast talking about BCoT's use of technology to improve learner engagement in the classroom. To hear the podcast in full please go to https://pivotaleducation.com/sky-caves-edtech-lessons-pp186/
---