BCoT establishes itself as leading sports massage provider
BCoT is becoming one of the leading training providers of sports massage courses in the area.
---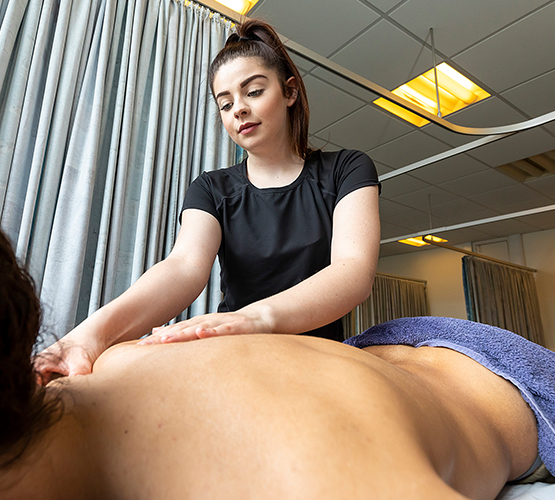 Basingstoke College of Technology (BCoT) is quickly becoming one of the leading training providers of sports massage courses in the area, much to the delight of current sports students at the college.
With a specialist sports massage room and a number of experienced lecturers, BCoT offers a number of part-time courses including an introductory Level 3 qualification and more advanced Level 4 and Level 5 courses.
Student Elly Welburn, 19, first joined BCoT in 2016 to study a full-time Level 3 sports qualification. After achieving a triple distinction in 2018, Elly soon enrolled on a sports massage course to enhance her knowledge and skillset.
Elly said: "I loved physical education at school and I knew I wanted to pursue it further. I knew studying a vocational course was the best for me and my course really allowed me to get hands on and enjoy a more practical way of learning."
"Studying sports massage at BCoT has given me such a variety of skills. My teachers have been really supportive and were always available to help whenever I need it."
After studying at BCoT, Elly is planning to study Sports Therapy at Solent University from September.
Principal of BCoT Anthony Bravo said: "With such experienced lecturers and our industry-standard facilities, our part-time sports massage courses are an exciting opportunity for anyone to build their career as a sports therapist."
"98% of our students progress to university, an apprenticeship or enter the world of work after completing their studies with us, and Elly is just one fantastic example of how BCoT prepares students for the next stage in their career."
There are a number of funding options available to help cover the cost of the courses. The Level 3 course is free to anyone aged 18 who has completed two years at college, whilst Advanced Learner Loans, which are not dependant on income or credit checks, are also available.
BCoT is also currently offering a 10% discount on all course tuition fees if you enrol and pay in full before Wednesday 31 July 2019.
Discover BCoT's part-time sports courses and enrol today.
---