BCoT apprentice named Apprentice of the Year
Darryl King named winner at the 2019 Southern Manufacturing Apprentice of the Year Awards
---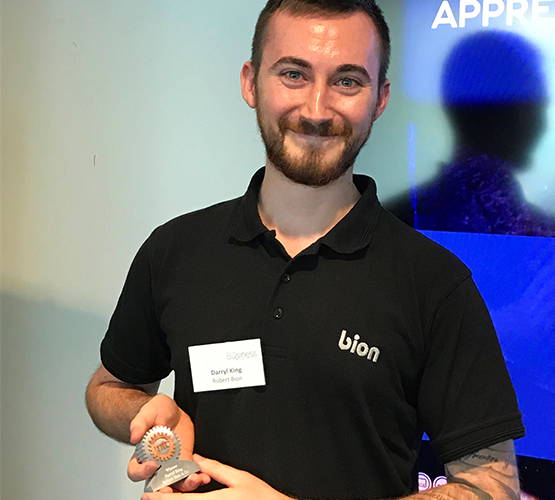 An engineering apprentice from Basingstoke College of Technology (BCoT) has been named the Apprentice of the Year at the 2019 Southern Manufacturing Apprentice of the Year Awards.
The awards, which took place on Wednesday 2 October at the Manufacturing Technology Centre in Coventry, celebrated the achievements of engineering and manufacturing apprentices in the Thames Valley, Solent and South Central region.
Darryl King, 26, was awarded the prize in the category for companies with a turnover of under £20 million, after recently completing his apprenticeship with BCoT. Darryl completed his Level 3 Apprenticeship in Engineering whilst working at Robert Bion & Co in Reading, after first joining BCoT to study a Level 2 Apprenticeship in 2016.
Darryl said: "I'm over the moon. I really didn't expect to win, especially as the other finalists were so strong. Apprenticeships are a very good way for people to get in early and learn skills that they can use to build a career for themselves. They're also good for business."
Bion (www.bion.co.uk) are one of only two independently-owned perforating companies within the UK, supplying bespoke perforated metal and plastic into a variety of different markets within a variety of different patterns and gauges.
Jane High, Director of Bion, said: "Perforating requires specific skills and is very much a knowledge-based industry. Whilst working at Bion provides the practical skills, the benefit of the apprenticeship framework is that BCoT can deliver the academic element. We recently celebrated 55 years of trading and Darryl, who joined the company four years ago, was our first employee to go down the apprenticeship route. It is therefore a massive compliment to Darryl, Bion and BCoT that Darryl won this award."
Fellow BCoT apprentice Caitlyn Smyth, 21, was also shortlisted for the same award after recently completing their apprenticeships with BCoT. Caitlyn, who studied her apprenticeship whilst working for Basingstoke-based Middlesex Aerospace, completed a Level 4 Apprenticeship in Engineering in September and is soon progressing to study a degree-level qualification at Coventry University.
Principal, Anthony Bravo, said: "I would like to congratulate both Darryl and Caitlyn for being recognised for their hard work and determination in being shortlisted for this impressive award. At BCoT we are proud to offer more than 60 different apprenticeship programmes across many areas and our apprenticeship team, Aspiral Learning, is one of the largest providers in the region."
To find out more about studying an apprenticeship, register now for BCoT's upcoming Open Evening on Monday 14 October at www.bcot.ac.uk/open or call 01256 354141.
If you like to be social, stay connected on Instagram, Facebook and Twitter.
---