College visited by local MP
Maria Miller stopped by BCoT to learn about the college's contribution to the local community.
---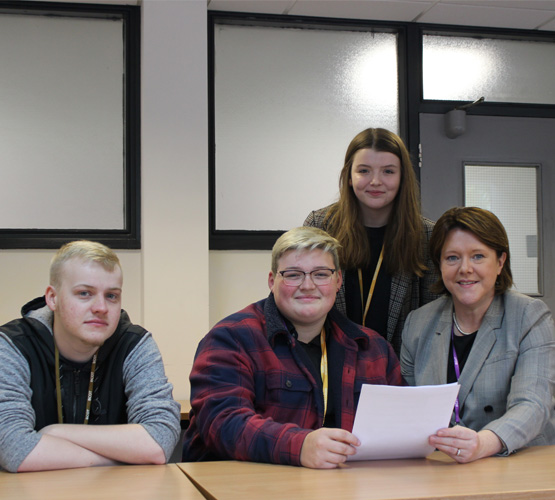 Basingstoke MP Maria Miller stopped by Basingstoke College of Technology (BCoT) this week to learn more about the college's valuable contribution to the local community. In a two-part visit on Friday 4 October, the Rt Hon Maria Miller MP first attended a Mentoring Circles Programme workshop hosted by the college and then met with students who recently helped champion a Cleaner Air anti-pollution campaign.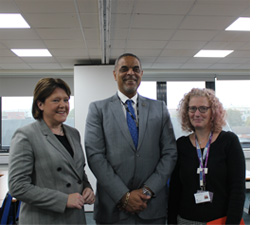 During the Mentoring Circles Programme workshop the MP was welcomed by Sarah Crew-Read of the Department for Work and Pensions (DWP), and BCoT's Principal, Anthony Bravo, who is currently working as a role model and employer mentor on the initiative to help young jobseekers aged 16 to 24 in and around Basingstoke find work. In the first of three workshops to be held at the college, the Principal has committed to work in partnership with the local Job Centre to provide free mentoring sessions to young people who do not usually have access to social capital, role models or inspiring employer mentors. The aim is to provide support to job seekers on how to succeed and be better prepared for their careers.
After learning more about the programme, she was greeted by four Applied Science students who carried out a pollution investigation at Festival Place bus station in June. Working with Hampshire County Council's My Journey Hampshire campaign and Basingstoke and Deane Borough Council, the students placed diffusion tubes to measure nitrogen dioxide around the bus station. The results of their investigations showed that there were very high levels of nitrogen dioxide at the entrance/exit to the bus station and Festival Place service area, and relatively high levels around the bus stands. The students reported that there had been a tremendous uptake of the anti-idling pledge by members of the public attending their information stand.
Maria said:" I was pleased to meet the BCOT students and hear about the work they have done to highlight how all residents can be part of the solution to improve our air quality, by using more sustainable forms of transport, and switching off the car engine when they are stationary."
"I was also very interested to hear about the results of their monitoring of air quality in the bus station, and their thoughts on how cleaner buses and more electric vehicles could be part of the solution. When I met the Stagecoach Managing Director earlier this year, we discussed the environmental benefits of new diesel buses. I called on Stagecoach to prioritise investment in these new buses for Basingstoke."
Maria added: "I highlighted to the students the Friends of the Earth report which has just come out, ranking Basingstoke Borough Council as the 5th most "climate-friendly" out of 317 local authorities in England."
Principal Anthony Bravo said: "I'm really pleased that our local MP Maria Miller was able to come into the college and see some of the great work we're doing not only with our current students, but with members of the local community too. Our aim is to provide skills, knowledge and careers to young people to enable them to progress into work, further study or an apprenticeship and we're pleased to support our students or those looking for work in Basingstoke alike."
To find out more about what BCoT has to offer, see our range of full-time courses and part-time professional and leisure courses. If you like to be social, stay connected on Instagram, Facebook and Twitter.
---