Level 3 Creative Media in Game Art and Design Extended Diploma
Level 3 Creative Media in Game Art and Design Extended Diploma
Level 3 Creative Media in Game Art and Design Extended Diploma
Level 3 Creative Media in Game Art and Design Extended Diploma
Level 3 Creative Media in Game Art and Design Extended Diploma
Full Time
---
Course Overview
Year one: 
Level 3 UAL Diploma in Creative 
Media Production and Technology 
(Game Art and Design)
Year two: 
Level 3 UAL Extended Diploma in 
Creative Media Production and 
Technology (Game Art and Design)
This two-year pathway provides a strong 
foundation in many areas of game design, 
art and development, and covers computer 
game art, 3D modelling, the business of games, 
employability and project  management. It allows 
you to develop the technical, artistic, and 
programming skills that are directly linked 
to the career path you wish to follow.
Course Content
The Games Industry
This will provide students with an understanding of the business of games, specifically its organisational structures and how companies are funded. It will also cover the legal and ethical responsibilities, alongside the regulatory constraints relevant to media producers and give learners an insight into future career pathways and further study options.
Production Management
Students will be introduced to the processes and importance of pre-production planning and the common business and working practices. Through practical projects students will understand, deliver and evaluate work in response to industry briefs, and they will also explore the principles of agile software development and related project management techniques. 
Game Design
Students build an understanding of the underlying principles of game design and explore the creative processes and ideation methodologies used in the game industry. They will use formal documentation to systematically record their own ideas and consider their viability as a game product. Students will also be required to develop an understanding of the processes of games testing and certification.
Art Fundamentals
Students develop practical skills in drawing game concept art. They will cover theories of colour, composition, perspective, light and volume and develop the drawing skills to permit effective communication and visualisation of imagined characters, objects and locations within a game concept. Students will explore both traditional and digital art media and processes. 
3D Modelling
This will enable students to understand the fundamental theory and uses of 3D modelling software. They will have the opportunity to use a 3D modelling software application to develop practical computer modelling skills. They will create 3D models using a range of techniques and explore both the limitations imposed by memory and processing capacity and the workflows used to creatively problem solve in 3D.
Computing and Programming Fundamentals
This ensures students have an understanding of the fundamental digital media and programming concepts required to examine what goes on behind the scenes of a modern game. Students will gain a deeper understanding of the way digital images, graphics, video, and audio work and investigate how programming is used to create and control objects within a game. Using a modern game engine, they will also create their own programs to explore and solve specific problems that relate to their own game development.
UI/UX Design
This will introduce students to the design strategies that inform the way people are asked to interact with computer games. They will analyse the current and emerging interface technologies that exist between interactive digital experiences and their users. They will also study and create control and feedback mechanisms to be used within games.
Entry Requirement
Five GCSEs at grade 4 or above, 

including English and maths, or a relevant 

Level 2 qualification.
Assessment
Students will be assessed by coursework culminating in their choice of final creative media production project.

Where does this course lead to
The majority of students completing the UAL Level 3 Extended Diploma in Creative Media Production & Technology (Games Design and Art) will progress to undergraduate study in a range of related courses.
The content of the UAL Level 3 Extended Diploma in Creative Media Production & Technology was developed collaboratively with representatives from universities, further education colleges and 6th form colleges to ensure that it provides students with the skills, knowledge and understanding they need to progress into higher education, further education or other training opportunities.
UCAS points for this course
Year one: Level 3 UAL Diploma in Creative Media Production and Technology (Games Design)
Year two: Level 3 UAL Extended Diploma in Creative Media Production and Technology (Games Design)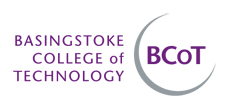 ---
Course Outline
Course Code: CF69
---
Study Mode: Full Time
---
Location: Basingstoke
---
Start Date: 09/09/2024
---
Duration: 1 Year
---