Level 2 Art and Design Diploma
Full Time
---
Course Overview
This UAL qualification has been developed to provide you with the opportunity to explore the materials, methods and processes that art and design activities require, and to begin to develop some related technical skills.


The course structure provides an introduction to the broad context within which art and design activity sits. It allows students to develop their practical skills and theoretical understanding through a process of reiteration and reinforcement. It also enables them to develop an effective working practice that will support creativity across a range of stimulating and demanding art and design activities and projects.
Course Content
Through a series of developmental projects, you will
research, develop and evaluate ideas against set requirements and use skills, knowledge and understanding to prepare and present solutions.
You will be expected to build an understanding of the formal elements of drawing, visual language materials and processes, and the approaches and perspectives that determine their use. 
This could see you practicing figure drawing, perspective drawing, storyboarding and comic illustration.
You will be encouraged to be adventurous and open-minded in exploring, recording and communicating ideas through a variety of formats and contexts and you will also learn to recognise the vital role that good communication skills play in supporting all art and design activities, both within education and in the creative industries. 
The project work spans across 2D, 3D and time-based media in both traditional and digital forms. This could see you creating clay-based character models one day and digital 3D character models for games the next. 
You could choose to focus your work on graphic design or fashion illustration. Or you can create large scale fine art pieces, fashion garments or jewellery. There are plenty of options. 
The course will help you identify the type of work you like doing and will provide you with a way to test your interest in the subject. It will also provide you with an opportunity to explore and develop the skills, knowledge and understanding required to progress within art and design education. 
Entry Requirement
Four GCSEs at grade 3 or above including 

English and maths


A portfolio of work to show
Assessment
There are no exams, all assessments are done via coursework.
Where does this course lead to
To progress to Level 3 you will need a minimum of a merit grade, a strong portfolio of work and 90% attendance. 
The course allows you to compose a broad portfolio of work that can be used to gain entry to Level 3 study.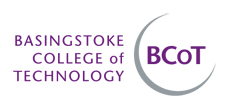 ---
Course Outline
Course Code: FF43
---
Study Mode: Full Time
---
Location: Basingstoke
---
Start Date: 09/09/2024
---
Duration: 1 Year
---