Level 3 BTEC Diploma in Advanced Manufacturing Engineering - WBTC (Development Knowlege)
Level 3 BTEC Diploma in Advanced Manufacturing Engineering - WBTC (Development Knowlege)
Level 3 BTEC Diploma in Advanced Manufacturing Engineering - WBTC (Development Knowlege)
Level 3 BTEC Diploma in Advanced Manufacturing Engineering - WBTC (Development Knowlege)
Level 3 BTEC Diploma in Advanced Manufacturing Engineering - WBTC (Development Knowlege)
Part Time
---
Course Overview
This course aims to equip new and existing personnel working in the general engineering field with the necessary skills required by a technician. It provides a good background in technical engineering and supports underpinning knowledge for NVQ's at level 3. it is a recognised technical certificate for the advanced apprenticeship (Level 3).
Course Content
The main course topics include the following;
Health and Safety
Mathematics
Mechanical Principles
Electrical Principles
Project
Electrical technology
Electronic Fault finding & Measurement 
Materials
Computer Aided Design
Welding
Entry Requirement
GCSEs in English, Maths and a Science subject at grade C or above for recent school leavers. The following may also be acceptable: BTEC First Certificate or Diploma, certain C&G qualifications, BTEC GNVQ Intermediate. Applications from mature persons without any of these above may be considered. Registration requirements Registration with the Business and Technology Education Council (BTEC) awarding body is required by those who wish to obtain the qualification. You may register at the the college during enrolment.
Assessment
You will be assessed by producing evidence that meets the outcomes of each unit. Assessment is continuous and includes assignments, projects and presentations together with any work related projects that may meet the requirements. It is likely that the evidence provided will include and involve real work based projects from your employer or other related companies.
How to Enrol
This course is for WBTC apprentices only and requires an enrolment code to enrol online.
Thank you for your interest in this course. We are not currently taking enrolments, but please click here to be notified when the course opens again.
If the course you are interested in is full, please email
information@bcot.ac.uk
and a member of our team will get back to you with the next available start date.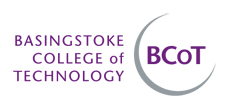 ---
Course Outline
Course Code: ERBL043
---
Study Mode: Part Time
---
Location: Basingstoke
---
Duration: 2 Years
---
Start Date: TBC.
---
Day & Time: Wed 9am to 5pm
---