Level 3 Apprenticeship in Customer Service
Level 3 Apprenticeship in Customer Service
Level 3 Apprenticeship in Customer Service
Level 3 Apprenticeship in Customer Service
Level 3 Apprenticeship in Customer Service
Apprenticeship
---
Course Overview
This apprenticeship programme includes learning about how customer service professionals handle day to day customer queries, providing direct customer support within all industries across the private, public and not-for-profit sectors.
The apprentice will learn how to act as a referral point when dealing with complex or technical customer requests, complaints, and queries. As an expert of the organisation's products/services, they will an advocate for customer service to share knowledge with wider teams and colleagues.
Apprentices can provide a service in many types of workplace environments including contact centres, retail, webchats, service industry or any other point of direct customer service. Roles include: 
Customer Service Assistant, 
Contact Centre Operator, 
Customer Support Specialist and 
Receptionist.
Course Content
The apprentice will develop their skills by gathering and analysing customer data that influences change and improvements to service offered. The role will utilise organisational and generic IT systems, to carry out customer service tasks with an awareness of other digital technologies.
Some of the core competencies the apprentice will learn include: 
Understanding your organisation's current business strategy in relation to customers and make recommendations for its future
Understanding the reasons why customer issues and complex situations sometimes need referral or escalation for specialist attention,
Knowing your internal and external customers and how their behaviour may require different approaches from you.
Entry Requirement
Learners must be employed within the sector to enrol on the apprenticeship and have 5 GCSEs at Grade C / 4 or above, including Maths and English or equivalent

Assessment
As part of this apprenticeship programme, the 
apprentice will learn and work on the employer
premises, completing tasks for portfolio building 
and practical role-related projects.
The funding rules state that 20% of the apprentice's 
time must be spent completing off-the-job training, this 
may include different activities and is measured over the 
course of the apprenticeship.
Apprentices will be required to undertake the equivalent 
of a day's training to meet this funding rule. This
could be either attending BCoT, shadowing another 
department/role, online learning, or manufacturer 
training and will be fully documented in their portfolio.
As part of the apprenticeship, there is an end point assessment, which comprises of a practical observation with Q&A, a work based project - supported by an interview and a professional discussion supported by a portfolio of evidence.
Where does this course lead to
Upon completion of the apprenticeship, with the 
transferable skills gained, the apprentice can progress
further within the profession into a wide range of 
customer service roles across many sectors. You will
also be eligible to join as an Individual (Professional) 
member of the Institute of Customer Service and may 
be eligible for further professional membership including 
management.
The apprentice may also progress their training further 
and work towards other relevant qualifications related 
to their role in the workplace.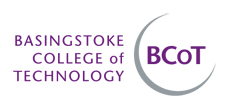 ---
Course Outline
Course Code: MP64
---
Study Mode: Apprenticeship
---
Location: Basingstoke
---
Duration: 2 Years
---
Start Date: TBC.
---